Scotland and Edinburgh Photographer – Simon Williams Photography
An Edinburgh photographer but covering all of Scotland. I have gained considerable experience in covering national and international conference photography and meetings, events, social events, pr photography, food, hotels, restaurants and interiors photography.
You need a photographer who has an eye for seeking out the best shots and someone who will liaise closely with you to properly meet your brief. A full understanding of a client's requirements and a reassurance in covering the event, as well as establishing a good rapport, are all a prerequisite.
'Getting the shots' at your conference for example with minimal impact on speakers and the audience is important. Social events are also covered with due respect to guests who are there to network and enjoy themselves.
"I just wanted to say a huge thank you to you for the excellent pictures that you took for the British Society of Gastroenterology (BSG) meeting in the SECC, Glasgow. You handled the group photograph of the BSG Executive Council members beautifully, as this was not an easy task. The location was great. At all times you were professional, charming and most of all fun to work with. The photos you took of the commercial stand designs and registration collateral was perfect. We also loved the MCI photograph of us all jumping in the air, well most of us. Thank you for a wonderful set of photographs which truly record the BSG meeting. Sharon will be in touch with you soon to discuss your services for ISQUA at the EICC in October."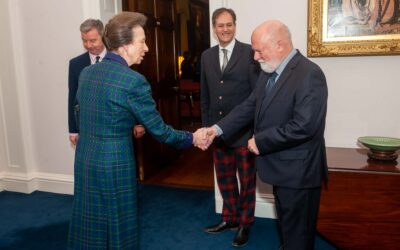 Princess Anne is Patron of the Vine Trust and hosted senior figues from the trust and reprsentatives from countries benefting from the trust work, along with local business figures. Through support from the trust volunteers are enabled to empower communities living in...
read more